The 2021 Subaru Love Promise Customer Commitment Award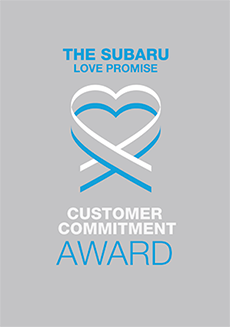 We've been nationally recognized for our dedication to our customers and the Subaru Love Promise.
We're honored to receive the 2021 Subaru Love Promise Customer Commitment Award. This award nationally recognizes Subaru retailers who demonstrate excellence in all areas of customer-focused performance. It highlights exceptional customer service that builds lifelong relationships with Subaru owners.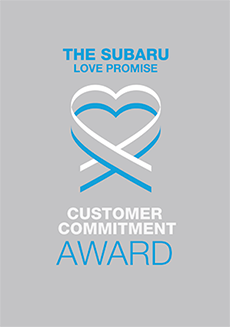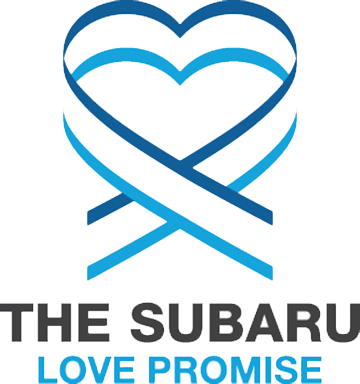 What is the Subaru Love Promise?
Subaru and our retailers believe in making the world a better place and the Subaru Love Promise is our vision of respecting all people. This is our commitment to show love and respect to our customers and to work to make a positive impact in the world.
How is Subaru of Missoula dedicated locally to the Love Promise?
Our Love Promise can be seen in various partnerships with local charities and non-profits. We're grateful for the opportunity, not only to be a part of our community, but to serve it as well.
Western Montana Humane Society
Love Promise Stories from Subaru of Missoula
Subaru and Subaru of Missoula believe in making a positive impact on the communities in which we live and work. We uphold that belief through our Love Promise Community Commitment. Every month, we select inspiring stories from customers and partners from around our area who strive to support our collective commitment and feature them here
Subaru Love's to Care - Susie W
Blankets and craft kits were delivered by Subaru of Missoula to the Providence Montana Health Foundation on June 8th and much appreciated! "Leigh Clemow the donor relations specialist received the blankets and kits and commented how wonderful they look and expressed her gratitude to LLS and Subaru of Missoula."
---
Subaru and NWF Love the Earth! - Claudia W
Thanks to Subaru of Missoula for providing free garden materials to enhance Hellgate High School's landscape and help it become a certified wildlife habitat, and to retired teacher Lee Brown for installing the new plants.
---
Science Books for Russell Elementary - Chelsea C
Subaru of Missoula LOVES its students and teachers. That's why at the beginning of the 2016 school year, Subaru of Missoula will be donating 125 student books to the Russell Elementary school. The 125 science related books will be delivered and the teaching staff can use these in addition to their regular study material. Our hope is that this additional material will help both the teacher and the student find enjoyment in learning.
---
Our Butterfly Hero's at Hawthorn Elementry - Chelsea C
Subaru of Missoula partnered with Mrs. Meng's kindergarten class at Hawthorn Elementary to share our love of Butterflies! Thanks to our partners at the National Wildlife Foundation, we were able to donate a butterfly habitat so we could do our part to help increase the monarch butterfly population that has drastically declined in recent years. We spent the afternoon learning about butterflies, making our own butterflies out of tissue paper and close pins and having butterfly snacks. We were also able to send a butterfly hero kit home with each child so they could build their very own butterfly garden at home! During the month of May/June, Mrs. Meng's class did a lesson on butterflies. The kids learned all about them and they even got to watch their own caterpillars grow from caterpillars into beautiful butterflies. They then released their butterflies into the habitat that we donated to them. "The Kindergartners in my classroom had so much fun! The wonderful ladies, Kandra, Chelsea and Rhonda from Subaru of Missoula helped us make a butterfly craft, brought in a delicious butterfly shaped snack, and even sent seed packets and information about Monarch butterflies home with each child. This fit in perfectly with our butterfly unit. And of course, they also delivered the butterfly garden- something that all of the students at Hawthorne Elementary can enjoy for years to come! Thank you for such a fun, engaging learning experience." - Mrs. Meng
---
VFW Wins Big.....CONTINUED - Chelsea C
Ole Beck Post 209 sends care packages to troops in conflict areas. Free breakfast on Memorial and Veterans Day are a norm for this post. It is normal to see local members attending send off and welcome home events for troops leaving for and arriving from out-of-country conflicts. The VFW is always a welcome sight at public ceremonies on days like; veterans day, Memorial Day, July 4th, Pearl Harbor Day, and Flag Day. The local Missoula Ole Beck Post 209 was recognized Nationally by the National VFW with the coveted National Community Service Award for its accomplishments during 2014. The members of the Ole Beck Post operate a 501c(3) Charitable Foundation with a mission statement that reads: "VFW Post 209 is organized and shall be operated exclusively for charitable, scientific, literary or educational purposes and for aid, assistance and relief to disabled veterans, widows and orphans of deceased veterans, and the prevention of cruelty to children." Subaru of Missoula was happy to partner with such a selfless serving organization and look forward to supporting them again this year. So far Subaru of Missoula in conjunction with the annual Share the Love campaign has donated $12,300 to the Ole Beck Post 209 during the last 2 years. These monies were raised through new vehicle sales in Missoula. The donated dollars will be used as part of the support given here in our community by the VFW Post.
---
VFW Wins Big with the Help of Subaru of Missoula - Chelsea C
As part of the Subaru of America's annual Share The Love program, donations have reached nearly $69 million since 2008, Subaru of Missoula has partner with the Local Missoula VFW Post for a local contribution of $12,300. The Veterans of Foreign Wars (VFW) is a national organization made up of Military veterans, who have deployed to foreign soil, serving veterans and their families. Our local Missoula Post which is called the Ole Beck VFW Post 209 has been serving the Missoula, Montana community since 1921. The VFW is a non-profit that generates its own income to serve others. Post 209 supports VFW National Youth Scholarship Programs such as; Patriots Pen and Voice of Democracy. Additionally the post participates in the Scouts, Firefighters, EMT's, Teachers and Law Enforcement officer of the year programs. In addition to monetary contributions the local VFW also provides graveside honor services, supports the local ROTC program and veterans attending the University of Montana. Our local Missoula Post also conducts local initiatives that benefit military veterans and their families. Local members also visit veterans in nursing homes, hospitals, and where the need for moral support is needed plus providing financial support in certain cases.
---
Subaru of Missoula, Saving the Butterflies! - Chelsea C
Did you know the monarch butterfly population in the United States has declined by more than 90 percent in recent years? For the month of April, Subaru of Missoula is partnering with the National Wildlife Foundation for the Butterfly Heroes Program. Butterfly Heroes seeks to bring awareness to the declining population and connect our community of gardeners and kids, families and schools alike to help the monarchs and other pollinators. Creating monarch and pollinator habitat is a wonderfully opportunity for observing one of nature's most miraculous occurrences. The unique transformation the monarch butterfly undergoes during its life-cycle from egg, caterpillar (larva), chrysalis to the delicate yet resilient butterfly is wonderfully intriguing for students and teachers alike. Subaru of Missoula will have a butterfly habitat planter on site and be giving away seed kits. Stop in and check it out. We also encourage you to be a butterfly hero and grow your own butterfly habitat at home. It's a great activity for the kids or grandkids!
---
Subaru Of Missoula Donates To Local VFW - Don S
In conjunction with Subaru's national Share The Love Event, Subaru of Missoula presented with a donation of $5,300 on March 27, 2015 for their ongoing efforts supporting local veterans. "We're proud to do our part to support an organization that has done so much for local veterans for generations" said Mike Springer, the General Manager of Subaru of Missoula, "The Share The Love Event is remarkable because it combines local giving backed by Subaru of America, Inc." This is the 7th Annual Subaru Share The Love Event in which Subaru donates $250 per New Subaru sold and in total raised over $15 Million. Donations are given to a handful of national organizations and local dealers like Subaru of Missoula are able to select a local organization for the donation. Jack Reneau, the Commander of the VFW Post commented, "This is the largest single donation we've ever received that I'm aware of and we're honored that Subaru of Missoula chose us as their local community partner." Reneau continued, "this donation will go a long way in our commitment to always being there for the Montana vets who have done so much for our nation."
---
The Giving Tree Partnership - Submitter A
Missoula Aging Services was inspired by the generosity that resulted from our partnership with Subaru of Missoula! Giving Trees were set up at several locations around town and the community responded with overwhelming support of vulnerable older adults in our community. Together we raised over $3,500! Thanks Subaru of Missoula.
---