The 2023 Subaru Love Promise Customer and Community Commitment Award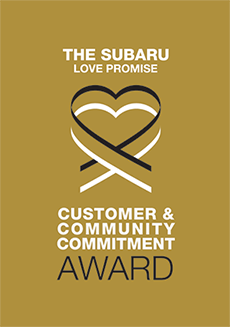 We've been nationally recognized for our dedication to our customers, our community, and the Subaru Love Promise.
We're honored to receive the 2023 Subaru Love Promise Customer and Community Commitment Award. This award nationally recognizes elite Subaru retailers who provide an exceptional customer experience at every interaction with Subaru. These retailers have also demonstrated an outstanding commitment to supporting passions and causes in their local communities in important areas such as the environment, community, health, education, and pets.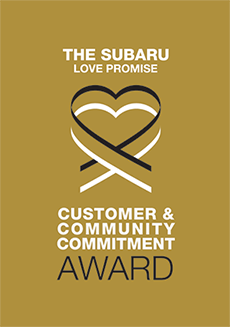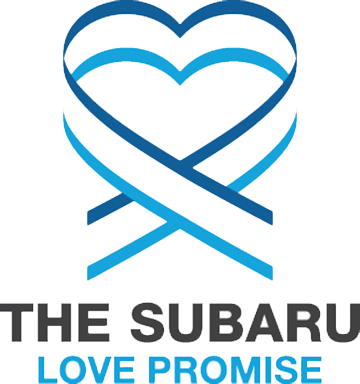 What is the Subaru Love Promise?
Subaru and our retailers believe in making the world a better place and the Subaru Love Promise is our vision of respecting all people. This is our commitment to show love and respect to our customers and to work to make a positive impact in the world.
How is Subaru of Missoula dedicated locally to the Love Promise?
Our Love Promise can be seen in various partnerships with local charities and non-profits. We're grateful for the opportunity, not only to be a part of our community, but to serve it as well.
Western Montana Humane Society
Love Promise Stories from Subaru of Missoula
Subaru and Subaru of Missoula believe in making a positive impact on the communities in which we live and work. We uphold that belief through our Love Promise Community Commitment. Every month, we select inspiring stories from customers and partners from around our area who strive to support our collective commitment and feature them here
Missoula Aging Services Partnership :) - Allison S
Missoula Aging Services – Subaru of Missoula In the past year Missoula Aging Services (MAS) and Subaru of Missoula partnered through the Subaru Share the Love program, which benefits the MAS Meals on Wheels program. Meals on Wheels (MOW) serves housebound older adults and people with disabilities throughout Missoula County. During the COVID-19 pandemic, food insecurity has been a significant issue for this vulnerable population. MOW provides a hot, nutritious meal to homebound individuals, along with an important safety check from a friendly volunteer driver. In Fiscal Year 2022, MAS volunteers delivered 125,579 meals to 781 homebound individuals. MAS received a donation of $5,456 through the Share the Love Program, which provided 682 meals. 96% of MOW clients reported that receiving meals helps them remain independent. Additionally, MAS and Subaru of Missoula are working on a vehicle loaner program, where MAS staff would be able to use Subaru vehicles to aid clients, whether through delivering meals, helping with client transportation needs or moving supplies for the MAS Home Modifications program. MAS looks forward to a deeper partnership with Subaru of Missoula, to further our mission of promoting the independence, dignity, and health of older adults of those who serve them.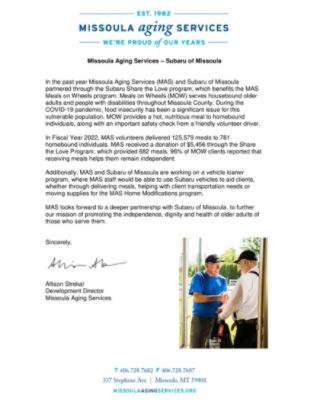 ---
VFW POST 209 - Anton J
The VFW post 209 would like to thank Subaru of Missoula for their continued support through the Subaru Share the Love Event. Your generosity has helped provide critical services to our local veterans through crisis relief, education scholarships and over 200 honor guard services this year alone! In addition your support has allowed us to contribute to our community youth activities through scholarships, scout projects and school teams. Your support has also helped us host the EMS/VFW Easter Egg Hunt, the heroes at home BBQ and the Vetrans Suicide Prevention Awareness half marathon. We feel fortunate to be working along side you in this endeavor to support our local community. Sincerely, Anton Johnson Post Commander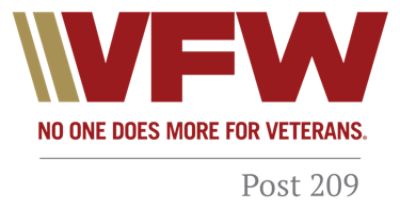 ---
Subaru Loves Pets and Missoula City-County Animal Control Loves Subaru of Missoula - Holli H
October was a great month for Missoula City-County Animal Control. We can't thank Subaru of Missoula enough for partnering with us for their Subaru Loves Pet month. We would like you to meet Panda. Our little "trash panda" was one of 60 animals adopted during the Subaru Loves Pets event. This little guy had quite a story to tell. Animal Control received a call that a young kitten was found at the landfill with a severely injured leg. Our office responded immediately and with help from members of the public and landfill staff it took over two hours to free and capture little Panda. He was taken immediately to receive veterinary care. Unfortunately, his leg was too damaged to save. Panda's leg was amputated and during his recovery he went from a scared dirty little guy to a sweet chill kitten who quickly became a staff favorite to cuddle. Stiches came out and Panda was neutered and ready for adoption. To everyone's happiness and surprise Panda found a home at the Subaru adoption event with the family of the landfill staff member who helped save his life. Three legs didn't stop Panda, in fact you might not even know unless he sits in a such a way to show off his scar. Nia Bonita was a stray who was horribly matted and couldn't see due to the hair in her eyes when she arrived at the shelter. After a groom, she was as pretty as a picture and was adopted to a loving home. Nia was a senior, she was deaf, arthritic, and had poor vision but her new family saw past what others would walk away from. Hemingway was a stray senior beagle who found a loving family after coming to the shelter with a 5-pound growth that was removed. That was a lot of extra weight when you are only a 30-pound dog. Hemingway was an entertaining little dude who never acted his age. His new family was thrilled to welcome him home. Kimber the puppy, Teako a scared shepherd, senior boy Gus, and Silas the kitten were a few more of the many adoptions that took place during Subaru Loves Pets month. We can't thank Subaru of Missoula enough for their support. From the gift boxes given to adopters, the great space onsite where Subaru staff welcomed the animals and shelter staff, to the donations made for each adoption, we are very grateful for Subaru of Missoula's friendship and generous support to Missoula City-County Animal Control…many thanks!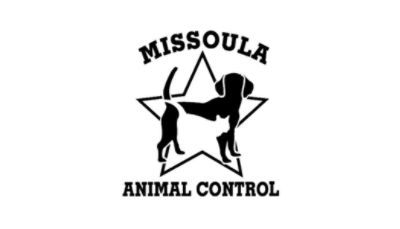 ---
VFW support that makes a difference - Clint D
Hello Mike, I just wanted to send you a little message on behalf of VFW Post 209 and our Members as we close out 2021. We just wanted to take a moment to thank you and Subaru Missoula for your long continued support to Post 209, our Veterans and their families. Thanks to Subaru Missoula and yourself, we are able to continue to provide our educational scholarship awards for our members who are still pursuing their education. We are also able to provide emergency financial assistance to Veterans of our post as well as Veterans in our community and the surrounding area. That assistance looks different for each Veteran and the needs vary greatly from Veteran to Veteran. Having this ability allows us to help Veterans that VA programs and existing services might not cover. Throughout the year we also support other types of Veteran oriented programs like Wreaths Across America, ROTC Scholarship Awards and the local Veteran Support Network and many others. We also support many other great causes in our community like assisting local school children to go to Washington DC or the Missoula Robotics Club. We support lots of different things and supporting our community is very important to the Members of Post 209. These things are only possible due to the support we receive just like yours! We couldn't do it without our community supporters. So on behalf of Post 209, we Thank You for all of your support and we look forward to working with you in the future. We hope you have a happy and prosperous new year in 2022. Gratefully, Clinton Decker Ole Beck VFW Post 209 Quartermaster (406) 214-5541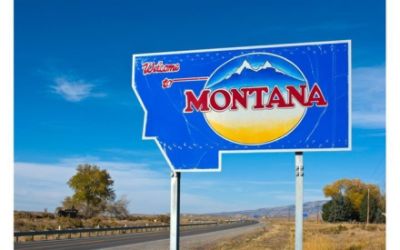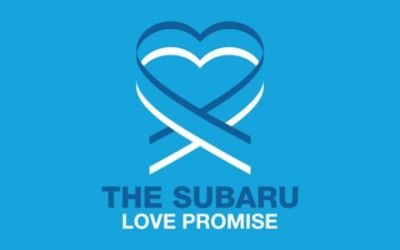 ---
Share the Love and Pay it Forward - Ethan Z
I have always wanted a brand new Subaru, but did not think I could ever afford one. For many years we've been driving a 1998 Subaru Outback Legacy, handed down to us through a death in my wife's side of the family. The Legacy ran well enough for an old car, but I loved the look of the Subaru Crosstrek's since the day they came out. When my dear sweet mother passed away at the beginning of 2021, it was devastating news. She was a lovely woman who worked her whole life and saved just a little bit of money that she always promised me would one day go to her only child: me. When her estate settled and the grief had mostly subsided, it occurred to me that we may just have enough money to be able to buy a new Crosstrek. Fast forward to November when the 2021 Magnetite gray Crosstrek Sport we ordered finally arrived at our local dealership. (photo below on left.) We drove it home in the dark (slowly) and I felt as though I had to keep pinching myself to prove that it was true. It is the most beautiful car I had ever owned, and the most beautiful car I've ever driven. When it came time to decide what to do with the Legacy, we toyed around with the idea of selling it (it wouldn't fetch much as it had over 220,000 miles on it.) But what felt best to us was to re-home it to someone who was badly in need of a car and could not afford one. We put an add in the local Facebook group asking if anyone needed one – cheap! To my surprise a whole bunch of people wrote to us, either on their own behalf or on behalf of a friend. The gal we chose was the first one to respond. She was in a bad relationship and felt trapped in a small city in Montana with no one to rely on but her abusive girlfriend. She arrived late at our house one night to pick it up. When we told her the car wasn't cheap, that it was, in fact, free, she felt as though she had won the lottery. She began to cry and said that we would never know how much the gift of this car meant to her. We told her all of the little quirks the car had, that the muffler had a hole in it, and the rear view mirror rarely stayed where you put it, and that the center console lid was no longer attached. She drove home that night shocked about what happened, writing to us many times to thank us. She told us she left her girlfriend for good and can now get around on her own. The sense of freedom this gift has afforded her is beyond measure. We wanted to share this story with Subaru of America, and let you know that your Share the Love Campaign is paying it forward for this young lady. My mother would be thrilled that we have helped her out. From my mother and from us, we want to thank Subaru for not only making great cars, but for helping to make the world a better place. Thank-You! P.S. We also were able to donate $250 to the ASPCA as part of your Share the Love Event. So thank you for that as well. Ethan Zimmerman and Lorri Roy. Victor, Montana
---
Subaru Love's to Care - Susie W
Blankets and craft kits were delivered by Subaru of Missoula to the Providence Montana Health Foundation on June 8th and much appreciated! "Leigh Clemow the donor relations specialist received the blankets and kits and commented how wonderful they look and expressed her gratitude to LLS and Subaru of Missoula."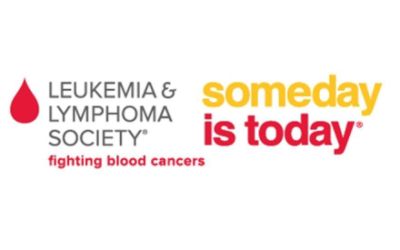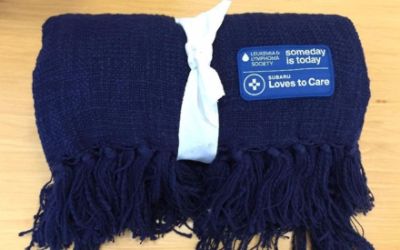 ---
Subaru and NWF Love the Earth! - Claudia W
Thanks to Subaru of Missoula for providing free garden materials to enhance Hellgate High School's landscape and help it become a certified wildlife habitat, and to retired teacher Lee Brown for installing the new plants.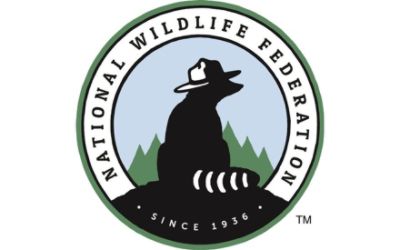 ---
Science Books for Russell Elementary - Chelsea C
Subaru of Missoula LOVES its students and teachers. That's why at the beginning of the 2016 school year, Subaru of Missoula will be donating 125 student books to the Russell Elementary school. The 125 science related books will be delivered and the teaching staff can use these in addition to their regular study material. Our hope is that this additional material will help both the teacher and the student find enjoyment in learning.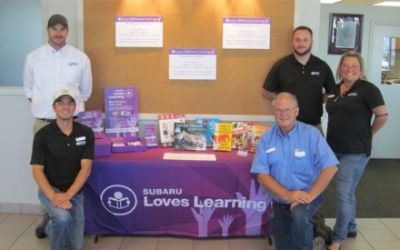 ---
Our Butterfly Hero's at Hawthorn Elementry - Chelsea C
Subaru of Missoula partnered with Mrs. Meng's kindergarten class at Hawthorn Elementary to share our love of Butterflies! Thanks to our partners at the National Wildlife Foundation, we were able to donate a butterfly habitat so we could do our part to help increase the monarch butterfly population that has drastically declined in recent years. We spent the afternoon learning about butterflies, making our own butterflies out of tissue paper and close pins and having butterfly snacks. We were also able to send a butterfly hero kit home with each child so they could build their very own butterfly garden at home! During the month of May/June, Mrs. Meng's class did a lesson on butterflies. The kids learned all about them and they even got to watch their own caterpillars grow from caterpillars into beautiful butterflies. They then released their butterflies into the habitat that we donated to them. "The Kindergartners in my classroom had so much fun! The wonderful ladies, Kandra, Chelsea and Rhonda from Subaru of Missoula helped us make a butterfly craft, brought in a delicious butterfly shaped snack, and even sent seed packets and information about Monarch butterflies home with each child. This fit in perfectly with our butterfly unit. And of course, they also delivered the butterfly garden- something that all of the students at Hawthorne Elementary can enjoy for years to come! Thank you for such a fun, engaging learning experience." - Mrs. Meng
---
VFW Wins Big.....CONTINUED - Chelsea C
Ole Beck Post 209 sends care packages to troops in conflict areas. Free breakfast on Memorial and Veterans Day are a norm for this post. It is normal to see local members attending send off and welcome home events for troops leaving for and arriving from out-of-country conflicts. The VFW is always a welcome sight at public ceremonies on days like; veterans day, Memorial Day, July 4th, Pearl Harbor Day, and Flag Day. The local Missoula Ole Beck Post 209 was recognized Nationally by the National VFW with the coveted National Community Service Award for its accomplishments during 2014. The members of the Ole Beck Post operate a 501c(3) Charitable Foundation with a mission statement that reads: "VFW Post 209 is organized and shall be operated exclusively for charitable, scientific, literary or educational purposes and for aid, assistance and relief to disabled veterans, widows and orphans of deceased veterans, and the prevention of cruelty to children." Subaru of Missoula was happy to partner with such a selfless serving organization and look forward to supporting them again this year. So far Subaru of Missoula in conjunction with the annual Share the Love campaign has donated $12,300 to the Ole Beck Post 209 during the last 2 years. These monies were raised through new vehicle sales in Missoula. The donated dollars will be used as part of the support given here in our community by the VFW Post.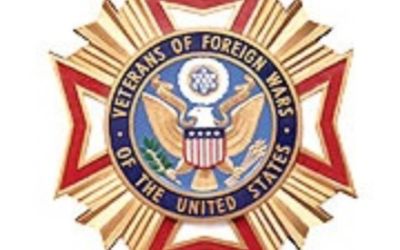 ---